Welcome To Journey - Your Place For Grace!
Click here to donate to
Georgia Baptist Disaster Relief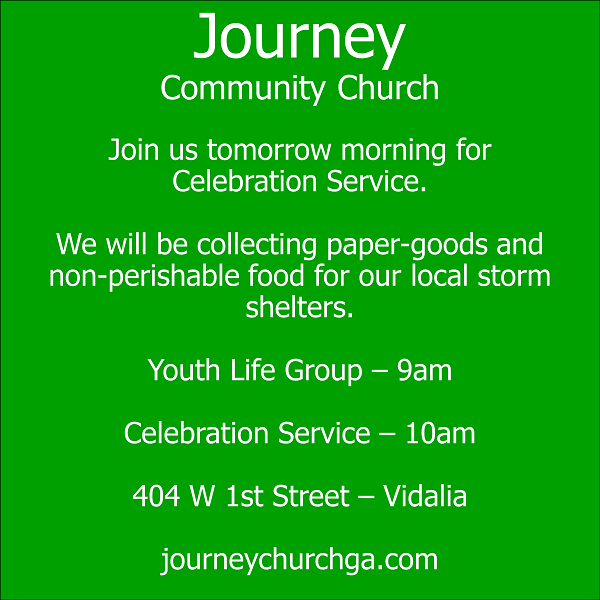 Thank you for stopping by our website. We invite you to take a few minutes, click around, and find out more about us.
Our starting time for Celebration Service has changed!
Make plans to join us this Sunday for Celebration Service @ 10:00 am in the Vidalia Woman's Club - 404 W First Street in Vidalia.
We hope that you will stop by and worship with us when you are in the Toombs-Montgomery area.
This site is designed to provide information about Journey - and the various ways that you can connect with us.


At Journey, we like to keep things simple. We are regular people who have encountered an extraordinary Savior.
Our goal - when we gather to worship as an entire congregation on Sundays or meet in small, Life Groups throughout the week - is to share the real hope that we now have in Christ.
We believe that God is a God of relationships and that He intends for believers to worship together, work together, grow together, and "do life" together.
Journey Has What You've Been Looking For!
Our church exists to minister to the real needs of people with the authentic grace of Jesus Christ! We invite you to experience the genuine worship, encouraging messages, friendly people and enjoyable atmosphere that are a part of our community. We hope you will come to worship and celebrate with us often.
Thank You for Visiting Us Online
We're so glad that you've taken time to visit our website and hope you'll take the next step and become personally acquainted with our church. We invite you to visit our worship celebrations
Sunday at 10:00 a.m. ,
in the auditorium at
Vidalia Woman's Club,
404 West First Street in Vidalia.
Our Sunday Service features music, teaching, and a Children's Celebration Service.
If you have any questions or need help in any way, please feel free to contact us through our contact form. You can also call us at: 912-388-4675. We look forward to seeing you soon.